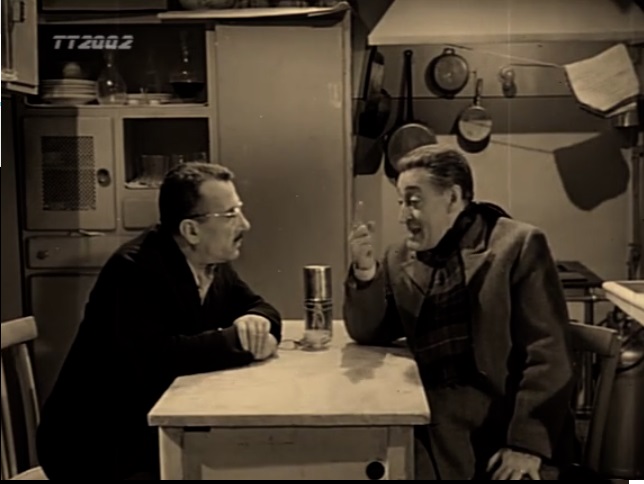 Neapolitan coffee and cinema: "the band of honest people"
Article written by Michele Sergio and published in Il Roma
In 1956 Camillo Mastrocinque signed the direction of one of the most exhilarating films with Totò and Peppino as protagonists, assisted by a great Giacomo Furia.
It is around the coffee that the three improvised counterfeiters reason, compare their problems (especially economic ones), talk about their dissatisfactions and frustrations, fine-tune their criminal design and finally decide to face the consequences of their crime (actually never definitively perpetrated). It is in a bar of a popular Rome that Antonio Bonocore (Totò), the goalkeeper of a crowded building, holds a real lesson on the functioning of the Italian post-war society and does it by using an original to the condominium and typographer Giuseppe Lo Turco (Peppino). educational support: a cup of coffee!
Lo Turco's cup of coffee represents the humble but honest citizen, while the one Bonocore has before him represents the greedy and unscrupulous capitalist. Bonocore explains that the two cups are in principle both without sugar (which represents the capital); but over time only that of the capitalist will be filled with sugar to the brim, because the capitalist (identified with the unscrupulous administrator accountant Casoria), greedy, without care or punishment for the poor honest, lives to incorporate into the cup as much as possible possible sugar. For the poor souls like Bonocore, Lo Turco and the occasional painter Cardone (a great Giacomo Furia) there is only one way to redeem himself from the various accountants Casoria so as not to leave them permanently overwhelm: to adapt, to renounce honesty, to break the law by printing , this is the plan, fake banknotes and pass them off as real.
The three will never, as is known, have the courage to spend even a single ticket and when they decide to end their adventure as forgers they will do it around a table with a Neapolitan coffee maker in the center: the cuccumella acts as a catalyst for honest thoughts of the protagonists and inspires their wise and painful decision: Antonio must establish himself to justice (and precisely in the hands of his financier son) to be able to save his friends. Fortunately, like all comedies, this one also has a happy ending: Antonio will not end up in jail, but, hastily, the hated accountant Casoria, who, also a counterfeiter of banknotes, unlike the honest three, was not scruple of passing off his fakes. Article written by Michele Sergio and published in Il Roma.